T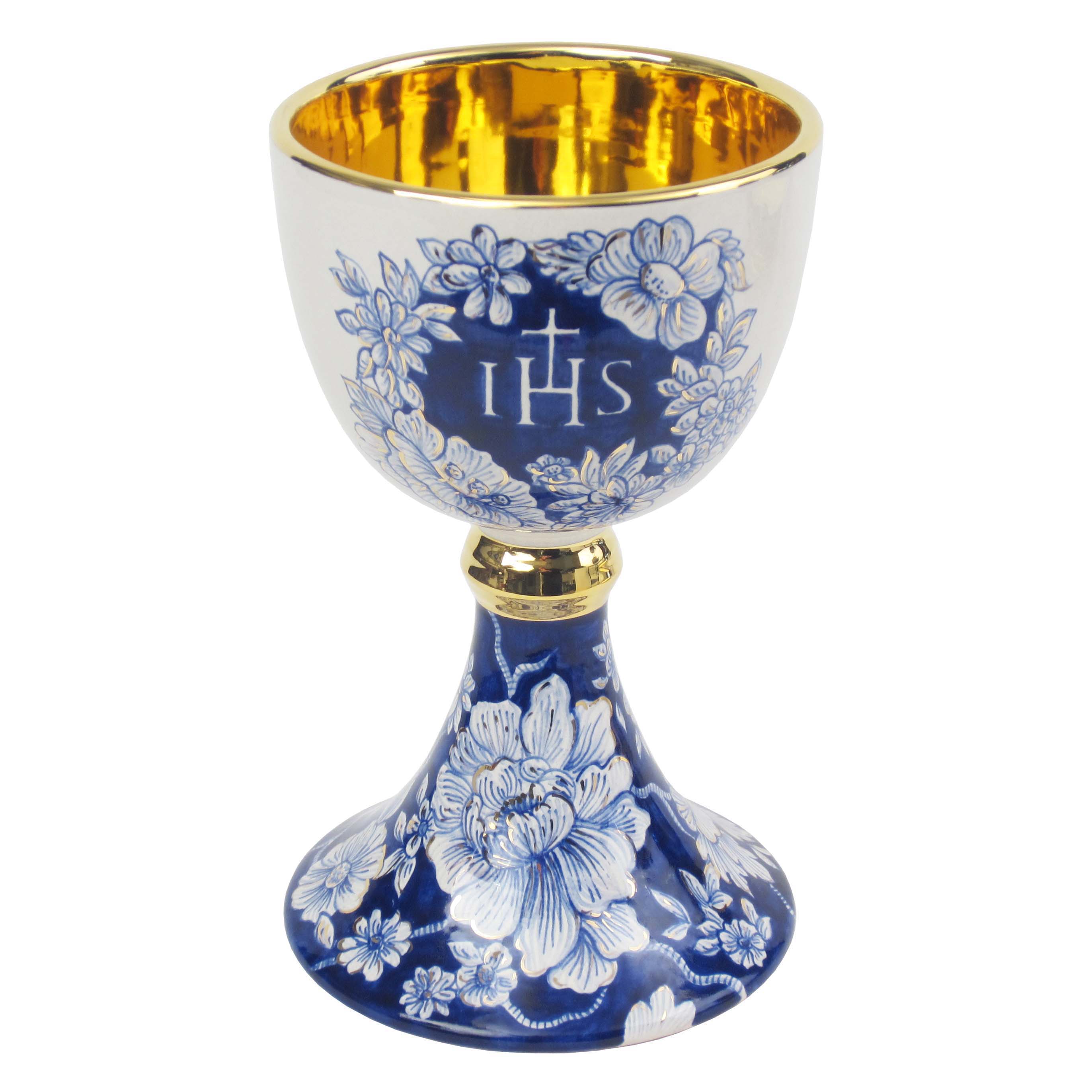 here are many Christian symbols that for centuries we find in the sacred iconography but of which we often ignore the meaning or to which we ascribe a partial or wrong meaning. An emblematic example is given by
IHS 
monogram, found in many Christian buildings of worship, or in sacred vessels, accessories and furnishings that adorn our churches. IHS or JHS is properly defined as "cristogramma"
1 
(Christogram), Latin transcription of the abbreviation of the Greek name of Jesus (
Ιησοῦς
, capitals
ΙΗΣΟΥΣ
)
2 
found both in Greek manuscripts and in inscriptions. "The reading of the consonant H (η) as h, gave rise to wrong interpretation as initials of
Iesus Hominum Salvator
. It spread, especially in Italy and Spain, from the 14th century onwards and mostly in the middle of the 15th century, by
Saint Bernardine of Siena
and his pursuivants who, as symbol of the particular devotion to the name of Jesus, adopted it encircled by rays and with the first bar of "h"  barred thus forming a cross.
Ignatius of Loyola
adopted it, surmounted by the cross, as an emblem of the
Society of Jesus
.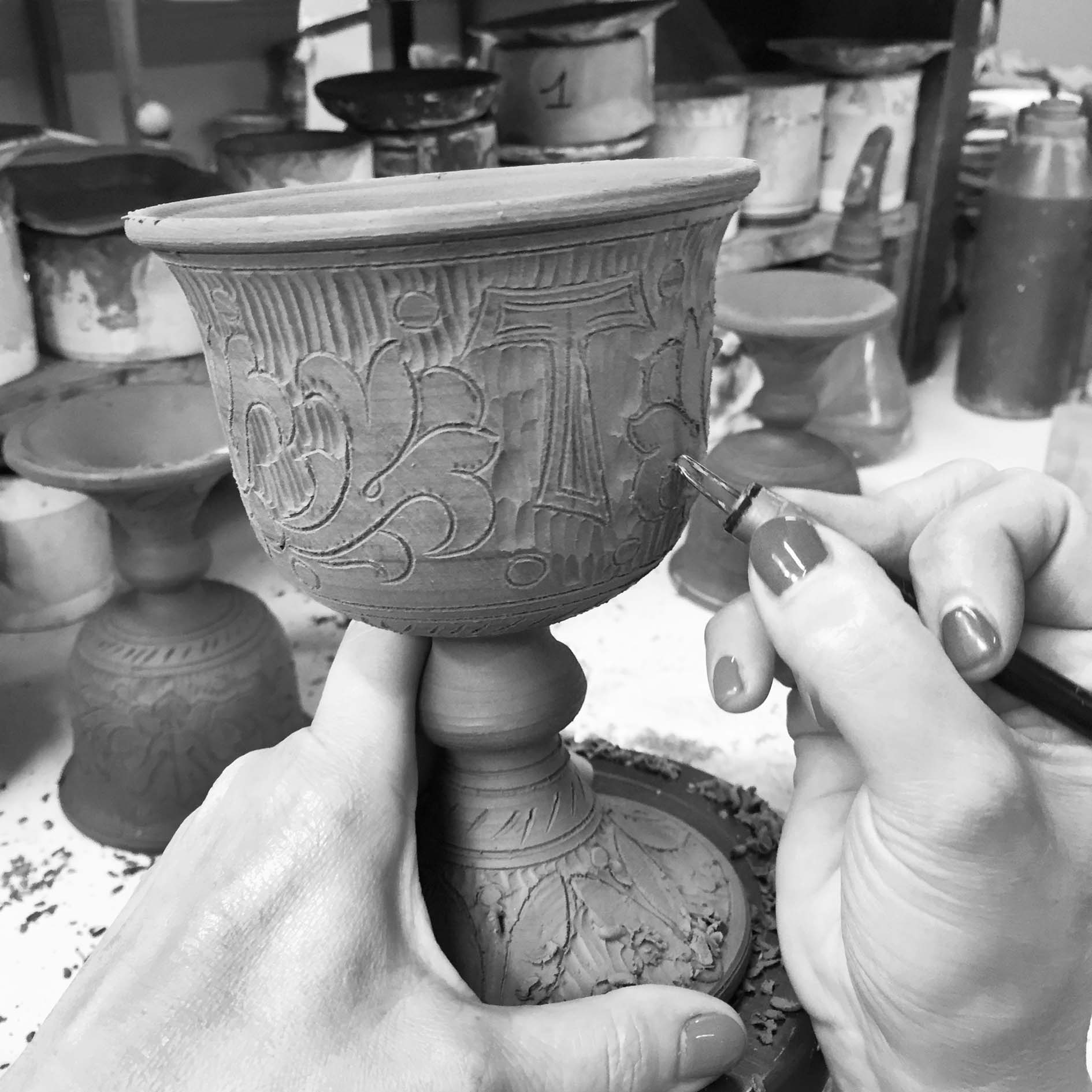 The symbol of Tau owes its origin to the last letter of the Hebrew alphabet. Already present in the Old Testament, it probably owes its diffusion to Middle Ages during which religious community of St. Anthony the Hermit, of which St. Francis of Assisi was active member, offered assistance to poor and lepers considered as scraps of society. These men used the cross of Christ, represented as the Greek TAU, as an "amulet" to defend themselves from sores and other skin diseases. "During his conversion, Francis often spoke of the encounter with Christ, hidden under the aspect of a leper, and it is therefore beyond doubt that the TAU was adopted as a distinctive sign or signature, combining the ancient meaning of fidelity to all life with the commandment to serve the last, the lepers of his period"3. In this chalice made by Sambuco you can appreciate the inspiration with which the still fresh clay is scratched by creating a high-relief (obtained from the removal of portions of clay material) that enhances the decoration on the background of the object. The process that will lead to competition of this product is still long and involves different steps in the kiln needed to apply  various colors and precious metals that distinguish this particular type of chalices.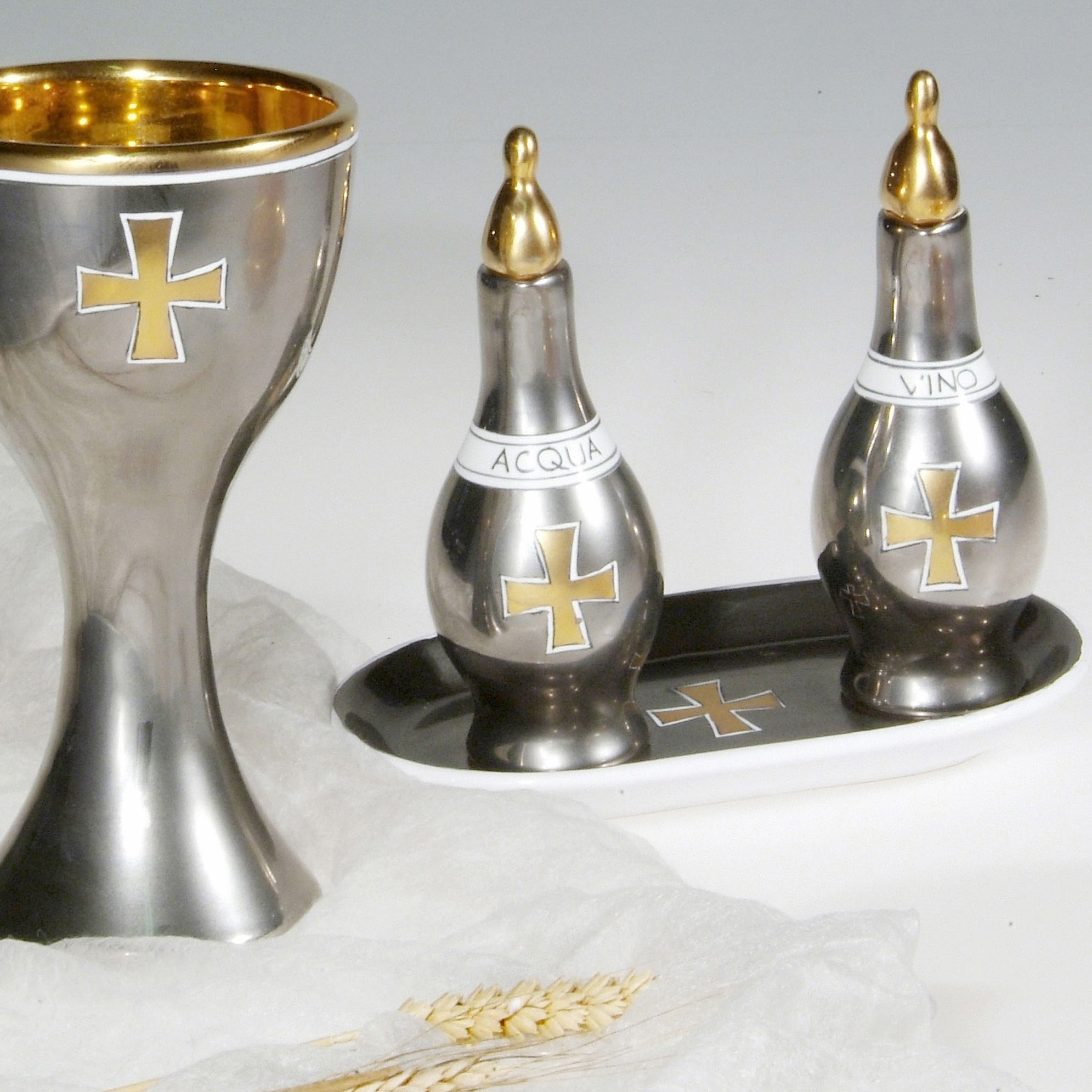 Patee cross
, according to heraldry, is the cross whose arms are spreading outwards. When "scrociata", in particular in Finnish and English cultures, it is also called
cross of Mantua
.
4
This cross with flared ends was adopted as a symbol of the order of Templars, (Religious Order of the Catholic Church of the XII-XIV centuries). Established in Jerusalem around 1119 by a small Champagne nobleman,
Hugh of Payns
, and nine other companions, to protect those who went on pilgrimage to the holy city. The simple linearity of the cross symbolizes the passion of Christ. Usually red, it was worn by Templars, not on the chest but left a little below heart on the tunic or on the left shoulder of the cloak to act as a shield and allow the right hand to wield the sword with which to protect faithful.
5  
Today, Patee cross is often used to mark sacred vessels and accessories for altar, as shown in the photo.
Ceramiche Sambuco Mario
, specialized for years in the creation and realization of accessories and liturgical articles, in its vast catalog provides a wide range of chalices, pyxes, patens, cruets, characterized by a refined style and design flanked by the use of precious metals such as platinum, ruby ​​and gold.
---
1  Source: https://it.aleteia.org/
2  Source: http://www.treccani.it/enciclopedia/ihs/
3  Source: http://www.vocazionefrancescana.org/
4  Source: https://it.wiktionary.org/wiki/croce_patente
5  Source: https://pdmdesk.blogspot.com/